WORLD BOOK DAY 2018
Congratulations to our 'all girl winners' of the SACEFI World Book Day 2018 Competition. A lovely prelude and testament indeed to the International Women's Day celebrations a week after!
WORLD FOOD DAY 2017
Sacefi children had an assembly on World Food Day to learn the sad truth about Africa's Export/Import inequality. You can also read the thought provoking article we shared; 'Transforming African Agriculture' by Dr. Akinwumi A. Adesina, President of the African Development Bank HERE.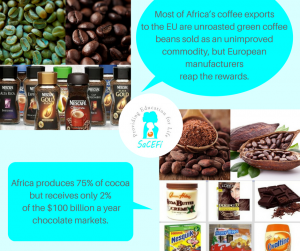 SCHOOL VISIT 2017
Sacefi founder Carole Bignell, on a recent trip to Ghana.
AFRICAN UNION DAY 2017
Sacefi children celebrate African Union Day, complete with flags of African countries!
WORLD BOOK DAY 2017
Some of our children shared their aspirations about what they would like to be in future, and how they think SACEFI can help them. Congratulations to the winners!
The Essays
Meet the winners
BOOK DONATION 2015
These school children in the Volta Region of Ghana were so excited by Sacefi's books donation, they chose to browse during their play break.