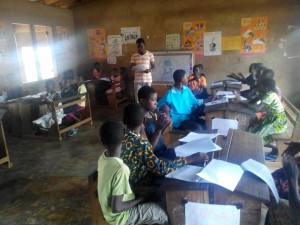 Volunteer Options: We welcome volunteers, professionals, and retired professionals from all disciplines conducive to development. Please see our list of Volunteer Options.
Support: 24 Hours
Current Volunteer Locations – (Ghana): Accra, Busua, Eastern Region, Volta Region.
Accommodation: Tents or shared accommodation with flush toilets and shower facilities From (GBP) £20- £70 per week.
Daily Working Hours:
Approximately 5 hours daily on weekdays
Language:
Multilingual. English is the official language
Getting to Project:
Organised transportation. Approximately £2 (GBP) per day
Minimum Stay:
1 week
Maximum Stay:
No Maximum (Depending on Visa Requirements) Usual stay is between 2-4 weeks
Projects:
Ongoing
Costs:
From £105 (GBP) per week per person (Depending on programme)

Host Country Airport Collection and Return Service £50 (GBP)
Why does it cost you to be a volunteer?
Sacefi recognise, and appreciate the wonderful way that volunteers help us to help communities, as well as Ghana's children's transition into the 21st Century. We could not do this very important work without you. Your involvement means that stringent health and safety procedures must be in place during your stay with us, to ensure that your overall wellbeing is never compromised. This requires organisation, supervision, and funding. Our operating costs are comparatively low, and we work very hard to keep things that way.
Recently, we embarked on an experimental programme which has proven to be mutually beneficial, although currently, remains a discretionary option. This programme gives volunteers the option to donate adequate and relevant resources which Sacefi will accept in lieu of a volunteer fee. For example, a volunteer teacher has the option of making a significant donation of teaching and learning resources, in lieu of a volunteer fee; similarly for other professions, accordingly. Volunteers wishing to donate both resources and funds are welcome to do so. For the time being however, volunteers are required to make financial contributions towards our operating costs.
Sacefi is committed to safeguarding children and vulnerable adults. All volunteers will be subject to a full Criminal Records check within their respective countries, or last country of work or residence. By submitting your personal information to us, you are consenting to its use in accordance with the terms of our Privacy Policy. Sacefi will not pass on volunteer details to anyone else.
If you are interested in volunteering for Sacefi please click the link below to complete and submit the volunteer application form.